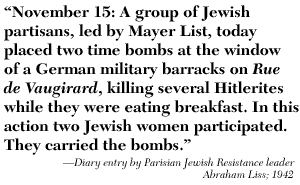 In Nabeul, Tunisia, home to a thriving Jewish community of 2000 before the war, rabbis gather in prayer. As residents of a French protectorate, Tunisian Jews were made subject to Vichy racial laws, although they fared reasonably well due to the sympathetic governor-general, Jean-Pierre Estéva. Following the Allied assaults on Morocco and Algeria, German and Italian troops entered Tunisia in November 1942, bringing tolerance to an end. Tunisian Jews were subjected to forced labor, and some Jewish leaders were sent to their deaths in the extermination camps.
Photo: Beth Hatefutsoth / United States Holocaust Memorial Museum Photo Archive

Encircling a prisoner about to be tortured and killed, the orchestra from Janowska, a labor camp in the Ukraine, serenades him with, in Yiddish, "Tango fun toyt" ("Tango of Death"). The tune, composed by Jewish musicians ordered to do so by SS-Untersturmführer Wilhelm Rokita, also was played when the labor details left for work in the morning and when they returned--as well as during the selections of who would live and who would die.
Photo: National Archives / United States Holocaust Memorial Museum Photo Archive





November 24, 1942: Rabbi Stephen S. Wise, a founder and president of the World Jewish Congress, announces at a press conference that the United States State Department has confirmed that Europe's Jews are being slaughtered by the Nazis. Wise estimates that the Germans have already murdered two million Jews, which is an understatement; See December 8, 1942.

November 25-26, 1942: Jews in Piotrków Trybunalski, Poland, who are lured from hiding places by Nazi promises of no retribution, are taken to a synagogue, locked inside, and subjected to random gunfire by Ukrainians; See December 19, 1942.

November 25-26, 1942: 532 Jewish women and children in Norway are arrested and deported to Auschwitz. Although more than 700 Norwegian Jews were eventually sent to Auschwitz, about 930 found refuge in Sweden.