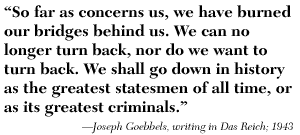 A glum Joseph Goebbels sits before the text of a radio broadcast to the German people. The German defeat at Stalingrad, Russia, and Allied victories in Tunisia made Goebbels's job increasingly difficult during 1943. Victory communiqués, which had been a staple of German national radio in the early years of the war, were now rare occurrences.
Photo: Bilderdienst SYddeutscher Verlag

Following a reprisal at Pancero, Serbia, a German soldier blithely waves to the photographer as the victims twist nearby. Mindful of the need to maintain the upper hand in conquered territories, the Nazis reacted swiftly to local revolt. Executions---often indiscriminate--became commonplace.
Photo: Yad Vashem

Pictured here are weapons, including knives and pistols, from the Lvov (Ukraine) Ghetto. The Nazis discovered the weapons in June 1943 as they sought to clear the Lvov work camp of all remaining Jews. Although vastly outnumbered by the German and Ukrainian police units that surrounded the ghetto, the remaining Jews chose resistance, killing several of their captors and wounding more than a dozen.
Photo: Yad Vashem





June 1-6, 1943: During liquidation of the ghetto at Sosnowiec, Poland, a spirited resistance is led by Zvi Dunski. Ill-armed Jews fight back as deportations proceed.

June 1-6, 1943: The Jewish ghetto at Buczacz, Ukraine, is liquidated. Some Jews resist and escape.

June 3, 1943: German troops in the Warsaw Ghetto destroy a bunker on Walowa Street that conceals 150 Jews; See September 1943.

June 3, 1943: Near Michalowice, Poland, Germans kill two Polish farmers who have rescued and hidden three Jewish escapees in a barn.

June 5, 1943: 1266 Jewish children under the age of 16 from Vught, Holland, are deported to the Sobibór death camp and gassed upon arrival.

June 5, 1943: In Minsk Mazowiecki, Poland, more than 100 Jewish workers at the Rudzki factory are shot.

June 6, 1943: Jacob Gens, the leader of the Jewish Council in Vilna, argues that Vilna's Jews will have an improved chance of survival if they demonstrate their usefulness as workers.

June 6, 1943: Germans execute all 1000 Jews still remaining in the Rohatyn (Poland) Ghetto after German authorities discover a plot of local Jewish policemen to purchase weapons.