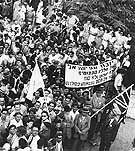 Jews all over the world naturally greeted the defeat of Nazi Germany with joy. These Palestinian Jews took to the streets of Jerusalem to celebrate the end of the war in Europe. The banner reads: "The people of Israel remember their huge losses. They will not be silent and will not rest until independence is established in their homeland." The Holocaust provided an important impetus for the founding of the state of Israel in 1948.
Photo: Ccentral Zionist Archives/United States Holocaust Memorial Museum Photo Archive

This American Army truck parked at Nordhausen, Germany, is adorned with the date of V-E Day, May 8, 1945. Germany had surrendered on May 7--a significant day for these GIs, and no less significant for the rail-thin survivor of slave labor who stands with them. May 8 also brought the end of German resistance in Latvia and, in a real coup for the Allies, the capture in Austria of top Nazi Hermann Göring.
Photo: Ministere Des Affaires Entrangeres
The end of World War II--announced here by a variety of Palestinian newspapers--was received with joy by the victors; with confusion and a sort of relief by the vanquished. Perhaps no nation, though, felt the uncertainty and difficulty of what was to follow more than Palestine, where the British strictly controlled immigration, and where Jews lobbied fervently for a Jewish homeland.
Photo: Keren Kayemet Archives





May 3, 1945: With Germany near defeat, the Czech Resistance rises in revolt and battles the German Army in Prague. See May 9, 1945.

May 4, 1945: Salzburg, Austria, is occupied by Allied forces.

May 4, 1945: German forces surrender in the Netherlands, northern Germany, and Denmark.

May 4, 1945: Red Army troops liberate the camp at Oranienburg, Germany, where 5000 inmates remain alive.

May 4, 1945: The International Red Cross takes over the administration of the camp/ghetto at Theresienstadt, Czechoslovakia. The last of the camp's SS men flee.

May 4, 1945: The U.S. 82nd Airborne Division liberates the concentration camp at Wöbbelin, Germany.