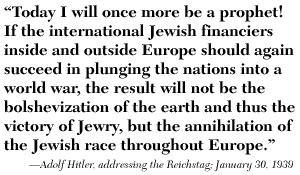 Adolf Hitler celebrates the sixth anniversary of his appointment as German chancellor with a major foreign policy address. Standing in front of the newly reconstituted German Reichstag, Hitler threatens to exterminate the Jews of Europe if war breaks out between Germany and the Western Allies. Seen as sensationalist propaganda at the time, the threat to destroy European Jewry assumed prophetic proportions in the aftermath of the Holocaust.
Photo: United States Holocaust Memorial Museum Photo Archive

In February 1939 leaders of the Jewish Agency for Palestine met with Arab leaders at the St. James Palace Conference to discuss the future of Palestine. The London meetings were called by the British government to ease the escalating tensions between Arabs and Jews living under the British Mandate. When the conference participants failed to reach an agreement, the British issued the MacDonald White Paper, which severely curtailed Jewish immigration to Palestine and limited Jewish land purchases.
Photo: United States Holocaust Memorial Museum Photo Archive

In order for the Nazis to carry out their antisemitic policies, they had to know who was a Jew. One way of determining a person's "racial" background was through the use of identity cards, which all Jews were required to carry. The large "J" on the left identified the bearer as a Jew. After August 17, 1938, all Jewish women had to adopt the middle name "Sara" and Jewish men "Israel."
Photo: United States Holocaust Memorial Museum Photo Archive





January 1, 1939: As decreed on August 17, 1938, Jewish men in Germany must adopt the middle name of "Israel"; Jewish women must take the middle name "Sara."

January 1, 1939: Jews are eliminated from the German economy; their capital is seized, though some Jews continue to work under Germans.

January 1, 1939: At the Buchenwald, Germany, concentration camp, Deputy Commandant Arthur Rödl orders several thousand inmates to assemble for inspection shortly before midnight. He selects five men and has them whipped to the melody played by the inmate orchestra. The whipping continues all night.

January 5, 1939: Germany declares Karaite Jews exempt from enforcement of the Nuremberg Laws.