From January 21 to 23, 1942, Hungarian and other troops murdered hundreds of Jews and other Serbs at Novi Sad, Yugoslavia. Bodies of the dead were stacked in the cemetery.
Photo: Yad Vashem

Germans executed many Soviet POWs, while many more were imprisoned and left to die. Indeed, as a group, Soviet POWs were singled out for persecution and death more frequently than any others, save Jews. The Nazis were encouraged to do this, in part, because the Soviet Union had declined to sign international agreements of 1907 and 1929 pertaining to the treatment of prisoners of war. Murderous hatred provided the remainder of the German motivation. This photograph shows the mass grave of 3000 Soviet prisoners of war about 12 miles outside of Leningrad. Hundreds of thousands of Soviet soldiers met similar fates at the hands of their German captors.
Photo: SYddeutscher Verlag Bilderdienst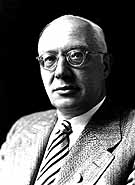 Martin Luther

Martin Luther's meteoric career advancement reveals the professional opportunities unleashed by the genocidal policies of the Third Reich. Though he never finished high school, Luther became an influential figure within the German Foreign Office.

Luther's entrance into the Foreign Office was facilitated by Joachim von Ribbentrop, Germany's foreign minister. A talented organizer who was extremely adept at Nazi Party infighting, Luther positioned the Foreign Office as a major player in the "Final Solution."

At the Wannsee Conference on January 20, 1942, Luther arranged for the Foreign Office to coordinate the deportation of European Jews. He clearly recognized that the Final Solution was a golden opportunity to expand his personal power base. Luther's unsuccessful efforts to oust Ribbentrop in 1943, however, landed him in the Sachsenhausen concentration camp. He died of heart failure shortly after the war.


Photo: Ullstein Bilderdienst





January 16, 1942: Red Army Major Senitsa Vershovsky is shot by an Einsatzkommando unit at Kremenchug, Ukraine, for protecting Jews.

January 17, 1942: Walter von Reichenau, a Wehrmacht general who cooperated with Einsatzgruppen in Russia, dies of a heart attack.

January 19, 1942: Soviet forces recapture Mozhaisk, the closest that German troops had come to Moscow. With this, the Soviet capital is saved from occupation.

January 20, 1942: The Wannsee Conference of top Nazi leaders is held in the Berlin suburb of Wannsee; attending are Heydrich, Meyer, Leibbrandt, Stuckart, Neumann, Freisler, Bühler, Luther, Klopfer, Kritzinger, Hofmann, Müller, Eichmann, Schöngarth, and Lange. Discussion pertains to the number of European Jews still to be dealt with, the future of slave labor, the separation of Jewish men from Jewish women, mass deportations, and extermination: the "Final Solution." According to the protocol of the meeting, five million Jews in the USSR are marked for death (including nearly three million in the Ukraine), 700,000 in the Unoccupied Zone of France, 5600 in Denmark, and 200 in Albania. Figures also are given for nations not yet under Nazi control, including England (330,000), Spain (6000), Switzerland (18,000), Sweden (18,000), and Turkey (55,500). The total meeting time is less than 90 minutes.